PureClean Pro Disinfect 99%
Regular price
$69.99
Sale price
$34.99
Save $35.00
/
---
In stock, ready to ship

Inventory on the way
We all know the impact that toxic pesticides can do to our bodies when ingested.
So many people choose to buy organic fruits and vegetables in an effort to avoid the harmful effects of pesticides an other chemicals.

But we have pretty much all been duped.

According to a recent study conducted by Harvard and Stanford scientists, their studies have shown that even organic produce can contain traces of pesticides.

And it has been found that there is little to no nutritional difference in organically grown vs conventionally grown food.

Also that 70% of all foods grown contain harmful pesticides, bacteria, and chemicals.

Unfortunatly we have all been tricked in terms of what really contains pesticides and other chemicals.
There Is Now Finally A Solution That Will End Us Relying On Non Organic & Organic Labels On Food
A startup based in the United States that was founded by a group of friends in there mid 40's who were passionate about healthy living created an innovative and inexpensive device.

And it quickly became a hit with health-conscious consumers who wanted to ensure that their produce was safe to eat.
What is it?
It is called the PureClean Pro that is extremly easy to use and removes up to 99% of harmful substances from produce, including pesticides, bacteria, and dirt.

It was also made fully portable so it could be taken with you wherever you go, making it a convenient and practical solution for either at home use or on the go.

It is the secret to the ultimate healthy lifestyle, free of toxins 🦠 that our bodies reject and ultimately cause diseases in the long term.
How Does It Work?
From now on, I will always use one of these.
Up to this point you are probably somwhate skeptical after trying multiple other produce cleaning methods that don't deliver on all that they promised.

Those other methods add up to cost up 10 times more over the course of 5 years of use and usually leave a terrible odor and aftertaste on your fruits and veggies that make them unbearable.
When devoloping and years of testing a breakthrough combination was found: Sodium   -    Electrolysis    -   H2O
Combining these three elements together was found to be the secret to producing the most effective portable fruit and vegetable purifier on the market! 
Over 76% More Effective Than Other Well Know Solutions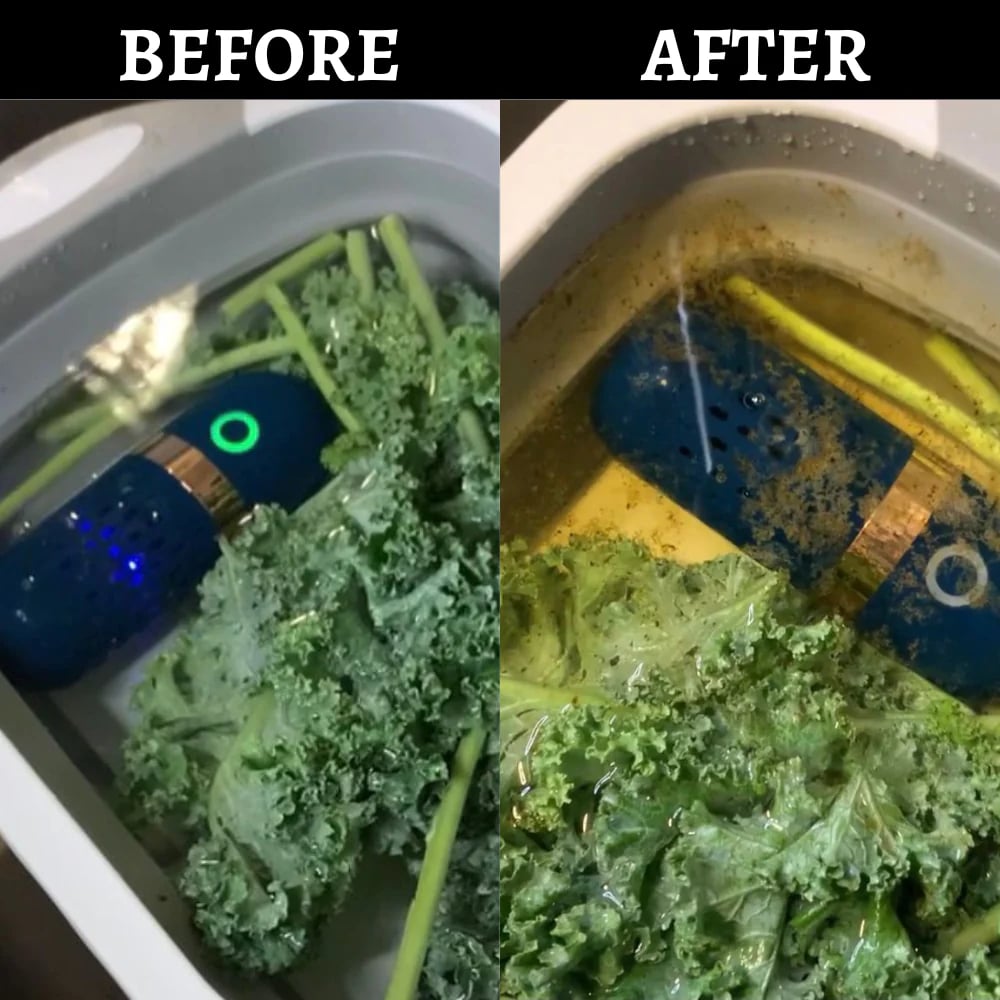 The way that the PureClean Pro uses this breakthrough combanation is by using a electrical current to break down water moluculesi nto positively and negatively charged ions.

🧬 These ions can then be used to neutralize the natural acids and oils present on the surface of fruits and vegetables,
which helps to remove dirt, bacteria, and other contaminants.
Contaminents will then rise up to the surfaceand you can dump the dirty water and rinse off any now nuetrilized contaminents with a quick rinse.

This combination:
- removes bacteria
- removes mold
- removes pesticide residues
- uncovers the real taste of fruits & vegetables
The result is beautifully clean fruits & vegetables free from nasty chemicals and bacteria.
How Do You Use It?
All you have to do to have this PureClean Pro clean your foods is Simply place your veggies, fruits, meats, or fish into a bowl with water and click the pwer button on the device and just place your Produce Pro inside.

Thats it then you just have to let it sit inside for 5- 10 min while it works it's magic removing pesticides chemicals and other toxins.

And just watch in aww with how much gunk flows to the top and how the water gets dirty from the toxins coming off. that you would usually always eat.
This is where I bought it online here.
Finally End The Consumtion Of Toxins You Usually Eat
It took just a few minutes to fully clean a bag of grapes.
"I Nearly use everyday to clean any my Meat, Veggies, & Fruits. Nowaday, since there's so much junk they spray on foods and this item helps me know I am eating clean and not eating all that gunk on my fruits."
This revolutionary device is making a huge impact worldwide making sure everyone ingest the highest quality of foods.
No longer will I buy organic foods and still ingest toxins now I truly now my foods are clean.

Some have told me that this sounds to good to be true but in fact this is truly real and you can see with your own eyes how much chemicals, worms, and dirt are in our everyday foods!

At the end of the day you will sleep better knowing you are investing in having a healthy lifesyle and ultimatly you will save time and money.
How Would You Save Time & Money?
You won't need to buy organic goods at exorbitant prices any longer if you use this device on all food items. Simply use the device to have a meal that is of a higher caliber than the store-bought organic produce!

Also, you won't have to waste time in the kitchen scrubbing off pollutants because, as the research study eventually demonstrated, doing so does not advance the cause.
How Much Is This Going To Cost Me?
You may be thinking that this item is very pricey. False! Now, PureClean Pro is available for less than $60! No monthly fees or subscriptions; one-time payment only.

✅ Naturally eliminate up to 99% of pesticides & bacteria (no harsh chemicals)
✅ Get the benefits of expensive permaculture-grown produce without the cost (money back in your pocket)
✅ Enhances the taste of your fruits & veggies (Lets you taste it as nature intended)
✅ Stress relieving (sleep, feel and live better)
✅ One-Year Warranty on all purchases