Teeth Cleaning Spray for Pet
Regular price
$29.99
Sale price
$14.99
Save $15.00
/
---
In stock, ready to ship

Inventory on the way
Why is the oral health of pets so important?
Every day food debris in the mouth can cause a variety of bacteria and microorganisms in the mouth to proliferate in the crevices of the teeth and inside the mouth. If left untreated, this can lead to a range of oral health problems in pets, including bad breath, ulcers, yellow teeth, tooth decay, calculus, periodontitis, bleeding gums, weak or partially missing teeth, swollen gums, toothache, and tooth loss.
When this condition continues to worsen, dogs and cats can develop problems such as bad breath and inflamed gums. At that time, bacteria are eating away at their gums, making them prone to bleeding, plaque, redness and other problems. When these problems are not addressed in a timely manner, oral problems become more serious and dogs and cats can suffer from periodontitis, plaque, calculus, loose teeth, toothache, and even lead to tooth loss.
That's why we created Teeth Cleaning Spray. Key solutions for oral problems

Enzymes: The role of enzymes in cleaning teeth is to help break down the dirt and food remnants on the surface of the teeth. They can help improve breath, reduce the risk of bacterial erosion and cavities in the teeth, and contribute to maintaining good dental health.
Galla japonica: it can inhibit the residual anaerobic bacteria in the root canal, significantly inhibit enterococcus faecalis and its adhesion ability, inhibit the activity of early Candida albicans biofilm, and can also block the dentin tubules and reduce the possibility of infection invading the root canal. It can treat caries very well and help teeth recover.
Triphala: With antibacterial, anti-inflammatory, and free radical scavenging properties, it can kill streptococcus mutans and inhibit the formation of streptococcus mutans biofilm, so it can effectively remove tooth plaque and effectively protect gingival tissue cells from damage by free radicals.
German chamomile: it works excellently for sensitive skin because it can calm broken capillaries for its anti-inflammatory and anti-allergic properties. So it's great for relieving bleeding gums and tooth sensitivity.
Propolis: helps the teeth to resist oxidation, resist the erosion of bacteria and fungi, and the bioactive flavonoids it contains can stimulate the formation of reparative dentin and relieve pulp inflammation. It could effectively stimulate tooth regeneration.
Menthol: helps to relieve pain, prevent the growth of bacteria, inhibit inflammation, relax muscles, and can relieve tooth pain and tooth sensitivity very well.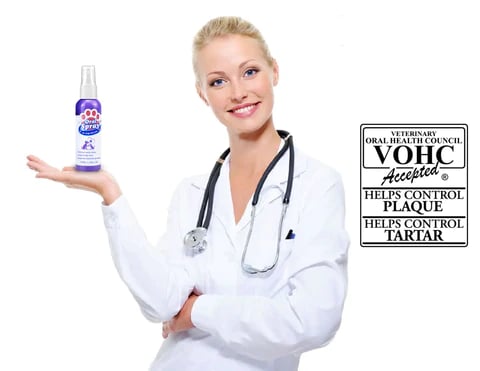 Teeth Cleaning Spray  is the latest product certified by VOHC. It can perfectly solve all pet oral problems, including dental calculus, bad breath, oral ulcers, dental caries, bleeding gums, tooth sensitivity, gingivitis, loose teeth, periodontitis, swollen gums, tooth damage, tooth loss, etc. No side effects. Made from 100% natural herbs. Suitable for pet, including dog and cat. Actually works better than dog breath bones, freshener treats, breath freshener mints for dogs, dental chews, dog mouthwash, or other dog teeth cleaning and dental care products
What can Teeth Cleaning Spray PetBreath do for your pet?
1. Whitens teeth
The Teeth Cleaning Spray helps remove plaque, calculus, bacteria and more from your pet's teeth and makes them completely white in 2-3 week, regardless of whether they are yellow or black.
2.Eliminates bad breath
The Teeth Cleaning Spray can help your pet remove bad breath causing germs, sublingual saliva, tooth decay, etc. It can help eradicate bad breath completely and can make your pet's breath fresher.
3. Gingivitis Removal
The Teeth Cleaning Spray can prevent and improve the occurrence of gingivitis. Gingivitis is the precursor to periodontal disease. It is where the gums meet the teeth. Because dogs do not know how to clean their own teeth, after numerous meals, their gums will accumulate a lot of food debris, causing a large number of bacteria to grow here. After the bacteria invade the gums, it will make the gums inflamed and cause pain.
4.Treatment of periodontitis
Sometimes owners neglect their pet's teeth and over time, their pet's teeth can form calculus, which can build up and become periodontal disease. Periodontal disease can cause swelling, inflammation and bleeding that can severely damage the flesh of the teeth. The Teeth Cleaning Spray can help relieve the swelling and remove stubborn tartar from the teeth, leaving your pet's teeth white and healthy again..
 These are the results from some pet owners
"Tartar removal for my dog was a thorough and important experience. I decided to try this spray after noticing a buildup of tartar on my dog's teeth. The product was easy to use, simply requiring me to spray it on my dog's teeth once a day.After a few weeks of using the product, I noticed a significant reduction in tartar buildup on my dog's teeth. My dog also seemed to enjoy the taste of the product, which was a bonus.I was pleased with the results of using this tartar removal product and would definitely recommend it to other dog owners looking for a convenient and effective solution for maintaining their dog's dental health. "
 "After using a product to remove tartar from my cat's teeth, I noticed a significant improvement in his oral health. The product was easy to use, and I simply spray a few pumps to my cat's teeth every day.I was impressed with the effectiveness of the product, and my cat didn't seem to mind the taste at all. He happily drank his water each day, and I was happy to see that he was getting the dental care he needed without having to undergo any invasive procedures"